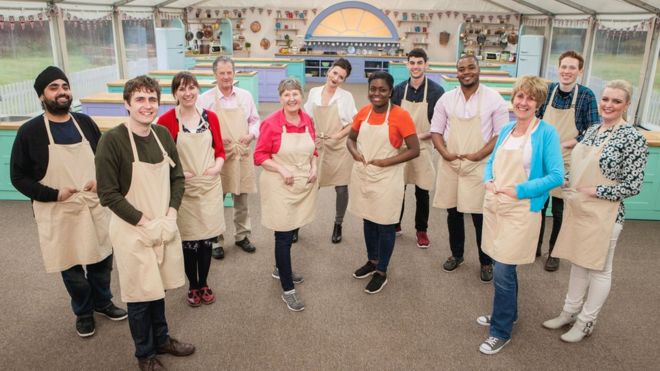 "Spatularisations".

I have missed Mel & Sue more than I thought.

Someone's already wanting Mary as her nan. As far as I'm aware we are baking cakes here not adopting. Unless this is a weird spin-off...

Moist is Mel's favourite word. It's a very common least favourite word, it is phonetically disgusting WHY MEL WHY

It's cake week! First up: drizzle cake.

Val is amazing. She's gone for quite a simple orange and lemon flavour combination but she dances in her kitchen so I'm sold.

Rav sounds like my spirit baker. He's already injured himself 30 seconds in.

Michael meanwhile is making a giant treacle gloop in a pan. My winner right there.

Okay so Kate already reminds me of a previous Bake Off winner. Good sign maybe? I can't think who though…

Sue saying "the wrong temperature…the wrong baking time" while we watch people put their cakes in the oven is so unnerving.

"1 hour to make your driz the shiz." And Solasi forgot his cinnamon! Ahhhhh

VAL IS DANCING YES VAL DO THAT TWO-STEP

Some guy is making a Marmite curd...not from Marmite, just one that Mary and Paul-Blue-Eyes will either love or hate. Risky.

Val is now listening to her cakes. Apparently they're saying, "not ready, not ready". She is gold.

Andrew the aerospace engineer is using lemon and rosemary. Yummy.

Val has just reversed into her tray of flower decorations and now they're on the floor - 5 second rule! SAVE THEM VAL.

Und now, the resultos. Benjamina made pistachio and lemon cake and it's fully baked! A good start.

The chap from Bolton got bad texture, Michael and Kate missed out key elements of their cake and Vampire Weekend lookalike man with the Marmite curd has shocked Paul into making a weird face.

Oh no... Rav's failed at his spices, aerospaceman doesn't have enough lemon, Welsh Louise needed more orange, Val had no drizzle. So much disappointment in the air.

Solasi now. He's saved the day and kicked baking butt well and truly.

Bridget Jones' mum used poppy seeds (100 brownie points from me) and did well.

Now the technical: 12 Jaffa Cakes! So for this, everyone has the same ingredients and a list of instructions.

I have never closed my eyes while eating a Jaffa Cake. Obviously I'm missing out on euphoria by not making my own.

Ahahahaa Mary just got her sass out. "We don't do that in the South you know," she fully sassed as Paul dunked his Jaffa C in his tea. That's what digestives are for, Paul.

This challenge looks really difficult to perfect. Actually, I think it's just an illusion. Some people have evidently never seen the shape of a Jaffa Cake before.

Val's instincts have saved her - she managed to figure out which way to turn the cakes before chocolate-ing.

And a quick summary of the results: Solasi's Jaffas have got the best review from Mary and Paul, with Aerospace Andrew in bottom place (he made them upside down).

The first showstopper now: a genoise sponge with a mirror glaze. In other words, what the heck.

Welsh Louise is taking her buttercream to the outside even though that's where the shiny glaze is meant to be...hmm.

Goth-lipstick lady is called Candice. She's having to bin her first sponge so Paul has authorised her throwing of it at the window. That is satisfaction right there.

A lot of people are restarting actually. Can't remember if Benjamina did but she seemed to know her genoise.

What is ganache. Not what Bolton Chap has made that's for sure. Obviously didn't pick up on Paul's sly comment about needing cream.

Candice's jelly isn't setting. Maybe something to do with the OJ she added in rebelling against Mary's almighty recipe.

It's Episode 1. And the tears are already flowing from Benjamina. The stress level is high, in fact I'm pretty sure Kate compared her nerves to giving birth earlier, jeez.

Solasi is making the prettiest reddy-pink cake I've ever seen. And time's up!

Bridget Jones' mum did really well. Bless her she looked so nervous. Vampire Weekend guy not as good.

Kate's glaze is BLUE. I APPROVE. Mary, sadly, does not.

Val got a great shine and Bolton Chap's cake was too dry. Ouch.

Aerospace man...Andrew (I will learn names eventually). He did really well and surprised Paul after his upside-down Jaffas earlier.

And now the Star Baker announcement.....it's....Bridget Jones' mum!!!!! A.k.a. Jane. Yaaaay. I think Solasi deserved it too though, am hoping he gets it in future weeks to come.

Bolton Chap, Lee, was the first baker to go home. Lee, you have a great accent but no one likes a dry cake. No one. Except birds.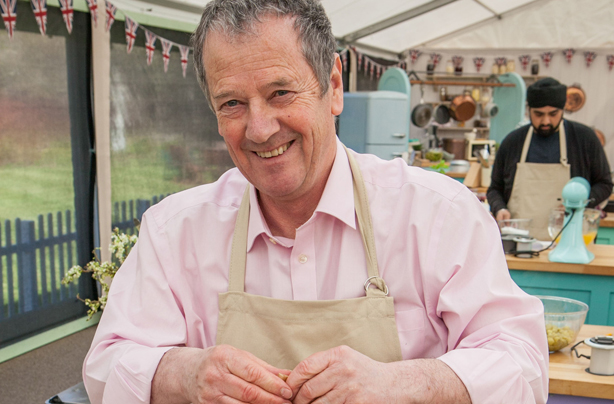 Find out more about the remaining bakers
here
!