Heeeeeeeeeeeeey! Haven't posted in a while as I've been busy getting ready for uni and volunteering at Leeds Fest and doing other things I can't remember excuses for BUT I'M HERE NOW. Which is the main thing.
SO what's new....erm..
Yep. That is not a typo. I did not mean sunning, or punning, or funning, or another word - I have started to go running by choice without any bribery or incentive other than to do exercise and get fit. I'm using this clever little app called Couch To 5K (made by the NHS) and you can find out more about it
here
. I know, I didn't expect it either.
I earned my Leeds Oxfam Badge!!!
Small and orange and it says "Leeds - it's nicer up North!" Which is completely true of course.
Leeds Festival was grubby and full of plenty a moron (as usual) but we survived our shifts and the cold air that came with them on the later ones. It was my first time setting up my own tent (I'd never owned one before) and I can't have done a terrible job as the torrential rain didn't leak onto any of my belongings so all's cool.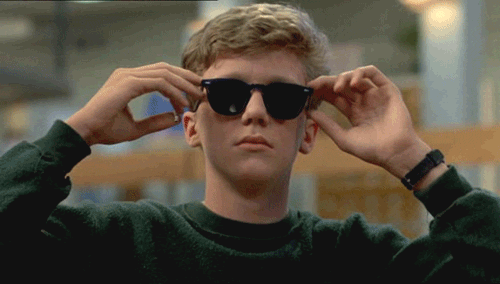 As for the acts, I managed to catch Darlia, Blood Red Shoes, Crossfaith (who I don't really care for but for some reason stood in the pouring rain through their entire set), the magnificent Bill Bailey and his honking horns and guitar funnies
...SBTRKT, Mallory Knox, Bombay Bicycle Club, Chvrches, a wee bit of Disclosure & Young Guns & Royal Blood, Vampire Weekend, Jungle, Gerard Way (who didn't play a single MCR song - good for him...but bad for those who wanted to sing along), Kate Tempest, and the Arctic Monkeys (who were absolutely stunning).
Weirdness occurred, rather a lot:
One night, we were approached by a strange and possibly inebriated floppy-haired guy with an ice cream, who proceeded to push it into everyone's mouths (apart from mine because I was laughing so much I had to turn around).
what the hell is this gif, I'm actually terrified
During Vampire Weekend's set, a man behind us with a camouflage hat began smacking all the rubbish on the floor nearby with a broken plastic hoover.
While we innocently looked for t-shirts on the second to last night, a man from a stall freaked us out with a dance and then asked me and Rachel if we'd like to go to Nepal. We then found out he was indeed from Nepal, and that he didn't care if we were poor students - we were to go there next year without question. We said "...Maybe" and then made up that we had somewhere important to be - probably wise.
me too, Robert, me too.
We found a crushed Barbie...horse
I don't know about you but a massive feeling of shivering and disgust overcomes me whenever I see a toy doll. Much to my delight we came across this on the floor in a car park. It may look like a Barbie, with the skin colour and hair and everything, but then there's the hooves. Which can only mean that this is some sort of Barbie mammal. A horse seemed most likely. And also it's pretty damn haunting to look at:
I was optimistic and went for a dress in a smaller size
I think a lot of people are guilty of this at some point. Playing it safe, playing it safe, OH MY, I COULD DEFINITELY FIT INTO THAT, YES, WHO CARES ABOUT NUMBERS - actually what they mean when they say that is it doesn't matter what size you are, so don't pretend to be anything different. Turns out I couldn't afford it anyway so I walked out the shop nonetheless. Window shopping at its finest.
I made some (semi) delicious purchases
Not only did these include Pot Noodles for festival needs but I also invested in this
for a
special someone
and this
for me to quench my thirst without having to go any further than an Asian supermarket we came across in Leeds. Above is a can of Peach Juice Drink from Taiwan which, I pleasantly discovered later on, contains Nata de Coco (Coconut Jelly). Not gonna lie - when I sensed the jelly I definitely thought there was an amphibious creature chilling in my drink. This is what it looked like when I got home and poured the rest into a glass:
Maybe people from Asia like jelly in their drinks but not me. Goodbye Jelly Drink.
Now please excuse me while I get back to watching Forrest Gump (not seen it before, don't hate).
Rhiannon x