Today's blog comes from a Rhi who is rather
swamped
in le travail. That's 'work' in English. See, I'm mixing my languages up, obviously a sign I'm pushing myself too hard (she says whilst taking her third break this hour)
Yup, just to illustrate - this is me right now, the mud and all
I know not everyone who reads my blog posts is studying right now, and so I thought I'd cater for everyone reading
(please send all tokens of gratitude directly to my door via horseback)
and write about how to remain, in a general sense,
c a l m
during times of increased stress.
Of course it's May now so there are some of you nerding up (or not nerding up,
naughty
) for exams, or maybe you're one of those lucky students who does 100% coursework - if so, nice move, seriously, reaaaaaaal nice one, just don't rub it in exam-lings' faces or we
will
take revenge during our "we don't give a **** what our grades are" season in-between our last exam and a few days before results day.
For you wonderful readers who aren't caught up in the web of education for whatever reason, you might have a job and if so you'll know very well the definition of 'stress'.
Of course, stress is caused by many things other than work. Social pressures, relationships, not being able to get a lid off a jar, and issues with family and friends (maybe that should have gone before the jar thing) all contribute. As well as, of course, random things related to themselves people stress about for no seemingly apparent reason, or maybe very evident reasons that people don't want to confront.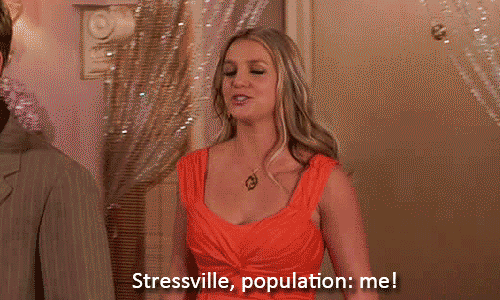 I am in no way an expert but the list below comprises of the things I do to relax and unwind when it's all just getting a bit too much. Hopefully it will help (YAY) and you can come back to it time and time again (DOUBLE YAY).
1. Listen to soothing music.
My answer to everything is almost always music. What is one of your favourite things in the world? Music. What're you listening to? Music. What's in that bagel? Music. Of course, there are certain tracks/albums/artists you don't really want to be listening to so I go direct and search for relaxing playlists on Spotify or YouTube. This is my current jam which I'll be doing yoga to shortly:
<iframe src="https://embed.spotify.com/?uri=spotify%3Auser%3Arelaxandrelax%3Aplaylist%3A1PtwEVwBHIoWFK1XOHqgGX" width="300" height="380" frameborder="0" allowtransparency="true"></iframe>
2. Practice breathing, slowly.
Not so slow that your lungs start crying and questioning their purpose in life, but so that you feel that you have enough control over your own body to start dealing with whatever issues you're faced with. In yoga we're told to breathe in for ten seconds and then out for ten seconds on certain moves, which is quite difficult at first (admittedly, especially in unnatural body positions) but if you can build up to this it really helps relaxation.
3. Write down your thoughts as they come out naturally, for 2 minutes.
This way, you can get a good grasp of what's really bothering you, or just have some weird but slightly nice therapeutic you-time. Which is important. If you're working for other people all time it can be easy to forget that we need to concentrate on ourselves at least once a day. Then, if you're like me, you'll get satisfaction when you rip up the paper (subsequently recycling) and move on.
4. Read for at least 6 minutes before bed.
I recently read somewhere that 6 minutes of reading can seriously help you get better sleep, and better sleep means less tired you, which means less stress and more will-power in the long run. Last night, I tried to do this but couldn't find a book I haven't yet read and therefore decided to read my 2013 diary. It was pretty hilarious and nostalgic and I slept better than I had done for the past week.
5. Drink lots of water.
Just, science.
6. Spend a bit more time outside, y'know, with nature and stuff.
Nature is nice. Nature doesn't give you deadlines. Nature doesn't make you reference things you don't wanna. Nature doesn't tell you you're slacking. Nature doesn't not give you a tip because their hot chocolate turned into a lukewarm chocolate en route from the kitchen to the tearoom (ahem). You get the picture. Maybe jog a bit (careful). Also, bird noises are super relaxing - that's why they feature on half of the relaxation music ever created, along with waterfalls.
Note: if you combine numbers 1 and 5, make sure to avoid regular waterfall soundtracks.
That's it from me for today - I'm off to yoga (it's now a verb) and read for 6 minutes. I'm actually excited to go to sleep so I can wake up and have a breakfast of sausages and scrambled egg. This is my life.
Rhiannon x
Images
via
via
via
via
via
via
via